(617) 482-3333
Downtown Living in the Heart Of Boston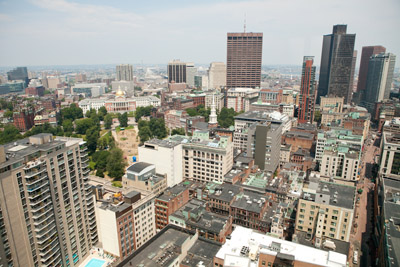 Downtown condos, located in what is often referred to as the Financial District, are at the center of all the action in Boston . Adjacent to Government Center and Chinatown, the area is the epicenter for business, dining, shopping, and entertainment in Boston . Boston downtown condos are luxurious hi-rise buildings that offer a comfortable, personal home in the midst of The Hub.

Work and Play is Close at Hand:
If you work in banking, stocks, mutual funds, or law, you just might find that living in downtown condos offers you the fastest commute to work. Financial giants such as Bank of America, Boston Stock Exchange, Fidelity Investments, Sovereign Bank, and many more are located in the Financial District, as well as major law firms and luxury hotels. As a downtown resident, diverse retail areas including Downtown Crossing and Faneuil Hall Marketplace are right outside your door. At night, enjoy the varied cuisines of the nearby North End, Chinatown, and Beacon Hill and then indulge in the entertainment options available at Faneuil Hall and the Theater District.

Historic Downtown:
Downtown condos are unique because they place you right in the middle of the history of Boston and our nation. From your residence you can look out not only on beautiful views of the city and the waterfront, but also on the local landmarks just below you. On The Freedom Trail that travels around downtown Boston , you can discover and learn about surrounding markers, such as King's Chapel, The Old South Meeting House, The Old State House, and the Granary Burying Ground which houses the graves of notables including Benjamin Franklin, Samuel Adams, and Paul Revere.

Easy Transportation & Commuting:
When you live in downtown area , you will find it a pleasure to get around the city by foot, car, or public transportation. By walking no more than a few blocks in any direction you will be able to board a Green, Blue, Orange , Red or Silver Line T subway to transport you across the city or to outer Boston neighborhoods. With your central location comes the reward of living near the Boston Common and Public Garden . These large green spaces display beautiful landscaping and a relaxing and convenient escape from the city. First Boston Realty can help you find your dream home among Boston downtown condos , complete with all the amenities and style you need and want.
Contact us at 617.482.3333 and speak to one of our real estate agents about your housing needs.