(617) 482-3333
The Bryant Condos Boston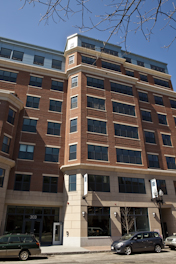 Bryant's Luxury Condos in Boston
The Bryant condos Boston is located at 303 Columbus Avenue in Boston, placing it right between the Back Bay and South End. Each unit features two or three bedrooms, and some offer a den. At the Bryant condos in Boston you will live amidst the beautiful, traditional architecture of the two neighborhoods while enjoying the upscale retail and dining of the Back Bay and the newer arts-centered culture of the South End.

The Bryant condos are fully outfitted with:
An art gallery in the lobby
Large living units
Plentiful parking spaces
Some private terraces
Extra storage space
Contemporary design with attention to detail
The Bryant condos Boston offer you front-door access to the South End's happening scene. Get to know the local art galleries, theaters, and the neighboring Boston Ballet and Boston Center for the Arts. South End has a diverse medley of inhabitants. Students, families, and young professionals all flock to the area, as well as many immigrants and ethnically diverse populations. This leads to a wide array of exciting dining options, including Brazilian, Cuban, Ethiopian, Indian, Italian, and Middle Eastern.

From The Bryant condos Boston walk into Copley Square and along Boylston and Newbury Streets for upscale and mid-range shopping and dining. Copley Square also offers the landmark Boston Public Library and the Prudential Center and Copley Place Mall.

Located just steps from the commuter rail and the fast Orange Line MBTA, The Bryant condominiums Boston is in a highly accessible location. With just a short walk you can arrive at a variety of Green Line MBTA stations as well.
Contact us at 617.482.3333 and speak to one of our real estate agents about your housing needs.