(617) 482-3333
Short-Term Corporate Rentals Boston
Furnished apartments require a 3 month minimum lease!
Finding the perfect short-term corporate rental in Boston can be a long process, especially if you're not equipped with a well-connected, knowledgeable Boston corporate rental firm like First Boston Realty International by your side. First Boston Realty International specializes in the Boston real estate market and brings a wealth of experience to the table, making your Boston corporate rental search efficient and effective.
First Boston Realty International focuses on finding the best short-term corporate rentals for each individual client based on his or her unique needs. Between our exclusive corporate apartment listings and access to other Boston corporate rentals represented by other brokers, we are able to offer an extensive selection of furnished corporate apartments and unfurnished corporate apartments—corporate penthouse condominiums to luxury corporate apartments.
When looking for corporate apartment rentals in Boston it's always best to begin your search a minimum of 4-6 weeks before your intended occupancy date. However, if you have shorter time constraints, First Boston Realty International will work with you to meet your needs. We will efficiently organize your search to make the most of your valuable time, finding a fabulous selection of corporate rental for you to choose from on your schedule.
Boston Short-Term Corporate Rentals – Furnished or Unfurnished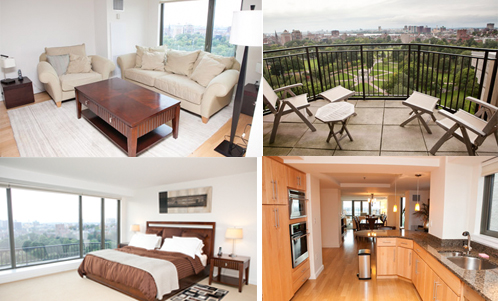 Whether you're moving to Boston or planning to stay short-term on business, First Boston Realty International will find the perfect short-term corporate rentals in Boston for your specific situation and needs. You will have the opportunity to choose from furnished or unfurnished corporate rentals that are close in proximity to your place of business as well as other desirable amenities.
Tips on Renting Corporate Apartments in Boston:
Documents required for the application process:
Application
Letter of employment (on official company letterhead stating the details of your employment)
Copies of your two most recent pay stubs
Landlord reference and personal reference
Identification
1.Down payments can be as much as four times the amount of one month's worth of rent (first month, last month, security deposit and broker's fee), however, this is not always the case and you may be able to negotiate this at signing.
2.Application fees for corporate rentals can range anywhere from $25 to $250. This fee is paid to the management company that oversees the corporate property you are interested in.
3.Important factors to consider when hunting for the right short-term corporate apartment:
Proximity of the property to your place of business.
Is off-street parking available?
What amenities and utilities are included in the rent (i.e. concierge, electricity, etc.)?
Are laundry facilities and/or services available in the unit, building or nearby?
4.Review your lease agreement with your real estate agent prior to signing to ensure that the following details are correct:
Date on which the lease takes effect
Expiration date on which the lease will end
Rental rate
Landlord reference and personal reference
Information regarding the return of your security deposit